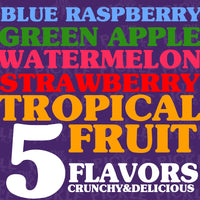 Bursting with flavor...


🌟 Unforgettable Flavor: Our candy-flavored pickles are a symphony for your taste buds. Each bite is an explosion of sweetness and crunch that will leave you craving more.

🌈 A Flavor for Every Mood: With five amazing flavors to choose from, you'll find the perfect match for your cravings, whether you're in the mood for something fruity, classic, or refreshingly unique.

🛒 Easy Access: Our pickles are available at select retailers like H-E-B Groceries and Pyburn Groceries across Texas, making it convenient to satisfy your pickle passion.

🌐 Nationwide Delivery: Can't find our pickles in your local store? No worries! We ship across the United States through our website, ensuring that everyone can experience our candy-flavored magic.

🤳 Join the TPPF Community: Follow us on Instagram, Facebook, and TikTok to be part of our vibrant community. See how others are enjoying our pickles, get inspired by creative recipes, and stay updated on our latest offerings and promotions.

👑 Proudly Black-Owned: The Purple Pickle Factory is proud to be a black-owned business leading the way in the candy-flavored pickle niche. By choosing TPPF, you're supporting a business that values diversity and innovation.

Indulge in the sweet and tangy sensation that only The Purple Pickle Factory can provide. Join the pickle revolution today and discover why our pickles are more than just a snack – they're an experience! Don't forget to become a V.I.P. Member to receive location updates and amazing discounts.
The Purple Pickle Factory

🥒🍭🍏🍉🍓
The Purple Pickle Factory

🍭🥒🍏🍉🍓
The Purple Pickle Factory

🥒🍭🍏🍉🍓
The Purple Pickle Factory

🥒🍭🍏🍉🍓
The Purple Pickle Factory

🥒🍭🍏🍉🍓
The Purple Pickle Factory
🥒🍭🍏🍉🍓
The Purple Pickle Factory
🍭🥒🍏🍉🍓
The Purple Pickle Factory
🥒🍭🍏🍉🍓
The Purple Pickle Factory
🥒🍭🍏🍉🍓
The Purple Pickle Factory
🥒🍭🍏🍉🍓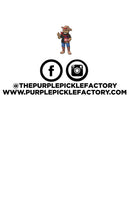 Locations
Also available:
Houston:
The Station Seafood- 8604 Hwy 6 North, Houston TX 77095
H-E-B:
H-E-B Fresh Foods:
HEB/ MacGregor Mkt- 6055 South Fwy, Houston TX 77004
HEB/ Aliana- 10161 W Grand Pkwy, Richmond TX 77407
HEB/ Lakemont- 9503 Jones Rd, Houston TX 77065
HEB/ Gulfgate- 3111 Woodridge Dr, Houston TX 77087
HEB/ Fry & I10- 1550 Fry Rd, Houston TX 77084
HEB 19900 Southwest Fwy, Sugar Land TX 77479
HEB / 1621 S Mason Rd, Katy TX 77450
Spring TX
• Greens Discount Liquor
17539 Imperial Valley Dr Houston TX 77060
• Southern Q BBQ
411 W. Richey Rd Houston TX 77090
North Houston :
• Payless Supermarket
7843 Ley Rd. Houston TX  77028
Texas City :
• Food Rite
5320 FM 1756 Texas City, TX 77591
* One Stop Shop Valero
3219 Texas Ave, LaMarque TX, 77568
Pyburns Groceries:
7125 Scott St, Houston TX, 77021
12675 Fondren Rd, Houston TX 77035
13824 Almeda Rd, Houston TX 77053